The KEGS Foundation was pleased to contribute to the recent record-breaking KEGS Geophysical Symposium on Exploration for Precious Metal Deposits and the very successful annual KEGS Breakfast which featured David Strangway as speaker and which saluted Bob Frazer (75), Wally Boyko (80) and Larry Morley (90!). Larry is already honoured by the GSC Pioneers Scholarship Fund, and Wally and Bob have been added to the growing roster of notable Canadian geophysicists honoured by the KEGS Pioneers Scholarship. Six students supported by KEGS Foundation took part in Geophysical Symposium, and thirteen of the current 21 Foundation scholarship students participated in the KEGS Breakfast. Several photos below show highlights of the student participation in these events.
The Foundation held its Annual General Meeting immediately after the KEGS Breakfast, at which an overview of the Foundation's finances, recent activities and reasonably favourable outlook were presented, and major donations were acknowledged, notably by BCGS, KEGS, Fugro, Barrick and Chris Nind, which have collectively increased the Foundation's endowment to over $125,000.
Following the sudden and much lamented departure in early January of Dr. Jim Wright (Prof. Emeritus at Memorial and a long-serving Counselor to the Foundation)initial efforts are underway to establish a scholarship to honour his contributions as a distinguished geophysicist and educator.
The KEGS Foundation is also pleased to announce that it will henceforth be administering and annually awarding the WAMIC Geophysics Scholarship, which was originally established by the Women's Association of Mining In Canada, who after many years of supporting geoscience and mining education in Canada are winding up their WAMIC Foundation. WAMIC representatives Marjorie Sheridan and Patty Mannard enjoyed participating in the KEGS Breakfast and Foundation AGM.
Jerry Roth
KEGS Foundation Chair
2010 SEG Ewing Medallists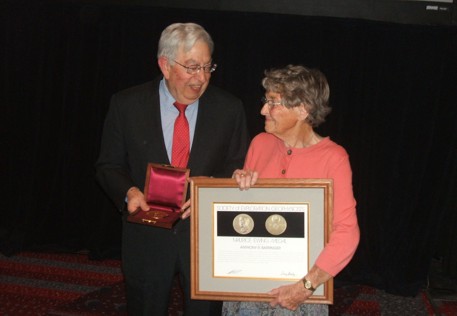 SEG Ewing medallists Nafi Toksoz, MIT and Tony Barringer (represented by widow Jean).
Students attending the recent March 2010 KEGS Geophysical Symposium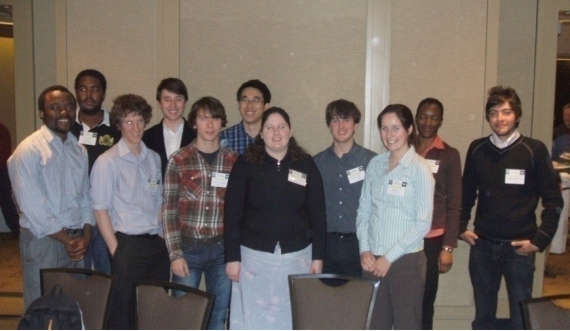 Eleven students attended the March 6 KEGS Geophysical Symposium on exploration for precious metal deposits, inlcuding six (*) supported by theKEGS Foundation.
Back Row (L to R): Hugh Atherly (UofT); Michael Afanasiev (UofT); Dikun Yang (UBC); Gabriel Walton* (Queens); Lisa Roach* (UofT); Gholam Azad Shervin* (Memorial)

Front Row (L to R): Emmanuel Bongajum (UofT); Elliot Holtham (UBC, Zonge Scholarship); John Mosquera* (Waterloo); Angela Carter-McAuslan* (Laurentian, Limion Scholarship); Emily Fay* (Queens)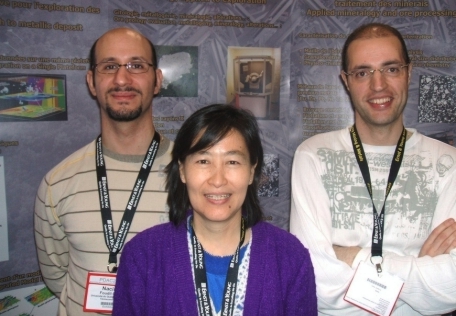 Scholarship students attending BCGS/KEGS Breakfast at Exploration Round Up in Vancouver Jan 19, 2009
Three scholarship students participated in the recent BCGS/KEGS Breakfast on January 19 during the Exploration Round Up in Vancouver, thanks to support by Mira Geoscience.
Seen in the photo above (from L to R): Elliott Holtham, UBC, recipient of the Zonge Scholarship from the SEG Foundation; Jenn Fohring, UBC, recpient of the BCGS Scholarship from the KEGS Foundation; and Eric-Martial Takougang, SFU, recipient of the KEGS and Arco Scholarships from the SEG Foundation, with Prof. Doug Oldenburg, UBC at rear.
KEGS Foundation and Don Salt Scholarship Students Attending
2009 KEGS XMAS Party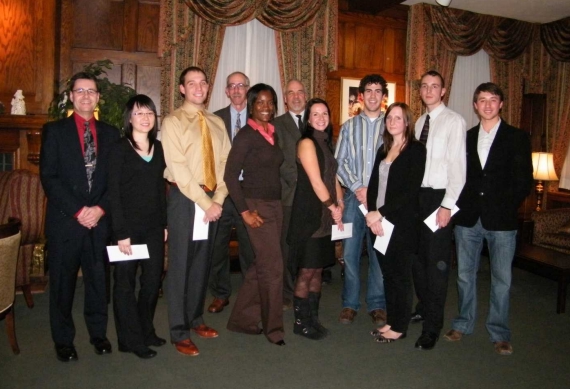 1st KEGS Ottawa Geophysical Talks, September 29, 2009
Ray Caron, Carleton University, receiving the KEGS
Fugro Scholarship from Terry McConnell, Fugro Ottawa
Session organized by Luise Sander, SGL
Peter Fernberg, Carleton
University, presentation
on the Effect of Earth
Conductivity Structures
on Pipeline Integrity, an
Ottawa River Valley Example
Joshua Ulla from Carleton University, presentation on the SLUTH method
Fifty Ottawa based geoscientists attended the talks
KEGS-Quebec Breakfast at Exploration Quebec, November 25, 2009
Jean Legault, KEGS Pres., presents 2009 KEGS Foundation scholarship awards at recent KEGS-Quebec breakfast to École Polytechnique grad students Eric Chou (left), Pejman Shamsipour* (right) Linda-Armelle Nzumotcha (front).
<<< Back to News & Events List